Young people with special educational needs and disabilities (SEND) are embarking on a life-changing opportunity as they take up work placements at Nuneaton's George Eliot Hospital NHS Trust.
Eight students from the local area have started a Supported Internship programme thanks to a new collaboration between North Warwickshire and South Leicestershire College, Warwickshire County Council and DFN Project SEARCH.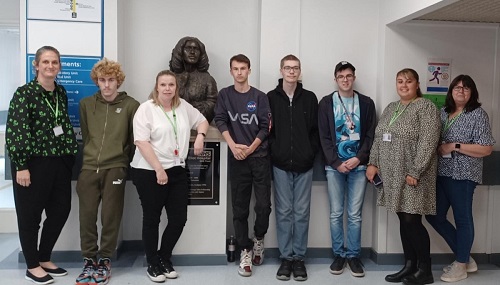 The DFN Project SEARCH programme has provided the students from the local area aged between 18 and 24 with a variety of work-based learning opportunities at George Eliot Hospital alongside a daily employability programme designed to help them to secure meaningful paid employment. The programme will see them working in a number of departments from estates and facilities and the post room to catering and the Learning Resource Centre. 
The college's Supported Internship programme, which was launched in 2021, enables young people with SEND to join the workforce. This rapidly growing programme has demonstrated significant impact over two years with 65 per cent of students gaining permanent job roles. Twenty students have completed internships in Years 1 and 2 and a further 17 started the programme this month. 
DFN Project SEARCH is a pioneering transition to work programme for students with learning disabilities and autism with ambitions to get 10,000 young adults with learning disabilities and autism into full-time paid jobs over the next decade.  
Marion Plant, OBE FCGI, Principal and Chief Executive of NWSLC said, "We're delighted to be working with George Eliot Hospital and the local authority on this fantastic project that will really help young people with special educational needs and disabilities. We believe that education changes lives and our aim is to provide our students with the best opportunities to progress in their careers once they complete their time with us.  
"Being part of our Supported Internship programme enables students to work within a key local organisation and to develop vital employability skills and competencies in order to move on successfully. It is a real privilege to be part of this programme and we look forward to seeing the interns progress, develop and achieve success in securing lifelong employment.  
"NWSLC is proud to have expanded our Supported Internship programme by increasing our team of job coaches so that we can offer additional roles within the local area. Our job coaches will work with a fantastic cohort of interns alongside our dedicated new partners, supporting them to gain valuable skills, knowledge, and experiences." 
Sarah Newton, Head of People Development at George Eliot Hospital said, "We are very proud to welcome our first group of interns. We strongly believe in promoting 'community wealth' by helping to support under-represented groups and enabling them to join the workforce and contribute to the local economy. 
"We will provide full support to our workplace mentors so that they are better able to understand neurodiversity and communicate with our interns with confidence. We will get to know each intern and match their workplace rotations to individual's interests as far as possible. This is an exciting time for the hospital as we embark on this programme for the first time, and we look forward to working with the college in the year ahead."